The Community Foundation recognizes civic leadership of Waverly Crenshaw Jr. and Francis S. Guess at the second annual luncheon for The Francis S. Guess Bridge to Equality Fund. 
News Release 5/11/2017
Header photo by Daniel Meigs courtesy of the Nashville Scene
U.S. District Court Judge Waverly D. Crenshaw Jr. received a ceremonial baton from civic leader Ben Rechter to cap the second annual Francis S. Guess Bridge to Equality Fund luncheon Wednesday, May 10 in the Davidson Ballroom of the Music City Center.
"Today has been about the search for equality we'll undertake, whether on our own behalf or on the behalf of others. And today has been about ensuring that this work continues. You certainly embody the success that can come, for an individual and for a community," said Rechter, who received the inaugural award in 2016.
The award, presented by The Community Foundation of Middle Tennessee (CFMT), honors the memory of civil rights trailblazer, civic leader, and former CFMT board chairman Francis S. Guess and recognizes those who spur innovation leading to equality.
Speakers during the event included educator and civil rights activist Dr. Jamye Coleman Williams, Room in the Inn founding director Charles Strobel, MTSU professor and journalist Beverly Keel, assistant public defender Jared Mollenkof, and Paul Galloway, executive director of both the American Muslim Advisory Council and the American Center for Outreach.
During his career, Crenshaw has excelled both in the courtroom and the community. An inspiration and mentor to many young people through the years, he has served on a number of civic and professional boards in leadership positions and as general counsel.
Nominated to serve as a judge of the U.S. District Court of the Middle District of Tennessee by President Barack Obama in 2015, Judge Crenshaw was confirmed by the U.S. Senate 14 months later on April 11, 2016 by a 92-0 vote. He is only the second African-American federal judge on active status in Tennessee.
On April 15, 2017, he became the Chief Judge of the U.S. District Court for the Middle District of Tennessee.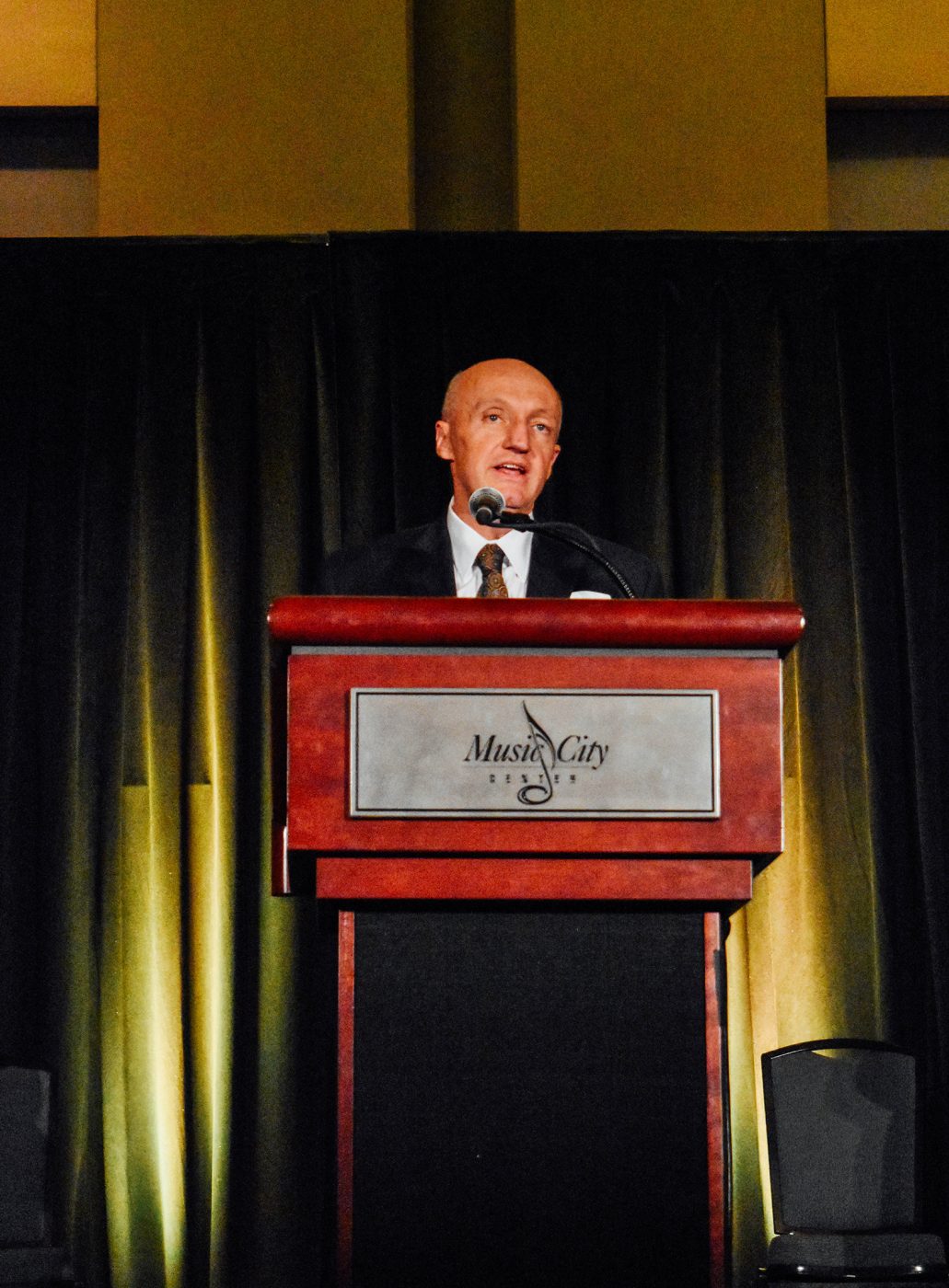 Photos by Morgan Yingling
Crenshaw, 60, was born and raised in Nashville and graduated from McGavock High School, a proud "product of the desegregated Nashville public school system," as he has often said. He remained in his hometown to earn a bachelor of art's degree from Vanderbilt University in 1978 and a degree from Vanderbilt Law School in 1981.
He then clerked for the judges of the Chancery and Probate courts of Davidson County and later for U.S. District Court Judge John T. Nixon before serving as Assistant Attorney General of the State of Tennessee from 1984-87. He was an associate at the law firm of Passino, Delaney & Hildebrand before joining the law firm of Waller Lansden Dortch & Davis in 1990. He was named a partner in 1994 and was the first-ever African-American attorney and partner at the firm.
While at Waller where he specialized in labor and employment law, Crenshaw started an expansive mentoring program and served on the firm's diversity committee.
---
THE FRANCIS S. GUESS BRIDGE TO EQUALITY FUND
The Francis S. Guess Bridge to Equality Fund was established to honor Francis S. Guess's life and continue his work breaking down barriers and building bridges. The award was created to honor the memory of a man who served our community with vigor, commitment, and pride for decades. He found his own bridge to equality and then created the same opportunities for others throughout the country and here at home. The award is given annually to individuals who, like Francis, have helped others attain equality and have created opportunities for all.
---
FRANCIS S. GUESS
Francis S. Guess (1946-2015) was a Nashville trailblazer in his business and civic life as well as a tireless champion for civil rights. Guess grew up in the old Preston Taylor Homes public housing development. After serving in the U.S. Army during the Vietnam War, attending Tennessee State University and Vanderbilt University, he forged a path in the business world and became vice president of The Danner Company, which operated Shoney's restaurants, and owner-operator of Helicopter Corporation of America. He served 30 years on the Tennessee Commission on Human Rights and was appointed by Ronald Reagan to the U.S. Commission on Human Rights. A resident of Bordeaux, he served on more than 100 boards and commissions and had a lifelong commitment to building bridges and creating equal opportunity in his community.
---
ABOUT THE COMMUNITY FOUNDATION OF MIDDLE TENNESSEE
The Community Foundation of Middle Tennessee exists to promote and facilitate giving in the 40 counties of Middle Tennessee and beyond. It does this by accepting gifts of any size from anyone at any time and by empowering individuals, families, companies, nonprofits, and communities to respond to needs and opportunities that matter. The Community Foundation works with people who have great hearts, whether or not they have great wealth, to craft solutions that reflect their intentions and goals. For more information, call 615-321-4939 or visit www.cfmt.org.  |  

For inquiries, please contact Pat Embry at 615-321-4939 Ext. 114.
---
Give to this Fund